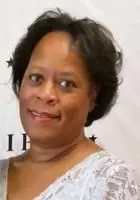 Phyllis McColister, MS, LMHC, CAP received her Master's Degree in Mental Health Counseling from Palm Beach Atlantic University and a Bachelor's Degree in Psychology from Barry University.
Phyllis is a trained EMDR Trauma and Stress Management Therapist, Certified Addictions Professional and is licensed with the State of Florida to provide mental health counseling.
She has experience working in grief and bereavement, emotional trauma, PTSD, childhood disorders i.e., ADHD and Oppositional Defiant Disorder and Substance Use Disorders. She is the founder of Healing Waters Counseling, a private practice that specializes in trauma, anxiety, depression, substance use and community mental health counseling.
She is a firm believer in empowering individuals and families in managing a myriad of emotional, mental and spiritual dynamics often associated with overcoming substance abuse and co-occurring mental health problems.
Phyllis works easily with adults, children and adolescents utilizing various counseling interventions and modalities such as Trauma-Focused Cognitive Behavioral Therapy, Behavioral Modification Therapy, Mindfulness and Dialectical Behavioral Therapy (DBT), Interpersonal Therapy and EMDR Trauma Therapy.
She is highly-skilled in working with hospice patients and helping clients recover from trauma-related experiences. Phyllis has lived in the St. Lucie county community for over 15 years, enjoying many strong relationships in the mental health community, juvenile justice system, state health and human service agencies, and local school systems.
Phyllis takes great pleasure in presenting public mental health seminars, stress management support groups and interpersonal skills training. Phyllis is a highly regarded clinician and speaker.
We are committed to your privacy. Do not include confidential or private information regarding your health condition in this form or any other form found on this website. This form is for general questions or messages to the practitioner.